Hands-on Promise Placemat
This placemat is a great companion to our promise card set. It features a visually engaging review system that will take memorization to the next level. First memorize the verse, and then turn the placemat over to test yourself. The text and references are gone but the colorful illustrations remain. You get to fill in the rest! It's a fun twist on scripture review for kids and even adults.
Hands-On 
for those who like action
Fill in each card for effective text review
Visual hints make remembering easier
Use with wet erase markers
Reusable over and over
Kid friendly
Turn over this placemat for a memory challenge! Writing the verse and reference on each card design will help lock it into the mind. The laminated surface cleans off easily with erasable markers. Test yourself as many times as you would like with complete reusability.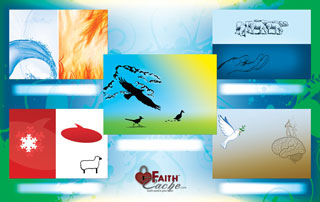 Facts
get to know the placemat
Placemat Size: 16" x 10"
Available in KJV
Laminated finish
Waterproof
5 card designs total
Spills are not a problem with this waterproof placemat. And neither are scribbles! Kids love to run wild with colorful markers. These make for a perfect creative outlet, all while learning scripture!
© FaithCache 2023